2020 International Peace Pow wow

Posted on : Friday, February 14, 2020
Tourism Lethbridge acknowledges that we work, live and play on the traditional Blackfoot Confederacy territory. We would like to honour the Blackfoot people past, present and future, their cultural heritage, beliefs and relationship with the land.
The statement above is a Land Acknowledgment, which dates back centuries for many Indigenous groups in North America, but has been a lesser-known practise to many non-Indigenous Canadians. The Land Acknowledgment is important for everyone to practise as it pays respects to the Indigenous people that were here long before the settlers arrived, and the relationship that they have with the land. By acknowledging the land on which your city lies on you can learn and help others learn about the history of the land we now know as Canada.
If you'd like to learn more about Blackfoot traditions and culture head down to the ENMAX Centre on February 22 and 23 for the 2020 International Peace Pow wow to experience the amazing culture and colours of the Blackfoot Confederacy! This two-day event brings together the nations of the Blackfoot Confederacy- Alberta's Piikani, Kainai/Blood, Siksika, Montana's Blackfeet, as well as Tribes and Indigenous peoples from across western North America, to promote peace and goodwill between the nations. Be mesmerized by the dancer's regalia as you watch the traditional Pow wow dances. Feel the power of the drums as you listen to traditional songs in the music competitions. Learn about Blackfoot culture as you experience Miss Blackfoot Canada specials, arts, crafts and so much more.
Admission: $18.25 a day for adults | $15.25 a day for seniors and students | $29 for a weekend pass | 12 and under are free.
Is this your first time attending a Pow wow? Here are some tips to help you out!
Helpful Terminology
Clothing worn by the dancers is called regalia. Please don't call it a costume.
Drum is also used when referring to the group of performers who play the instrument.
Grand Entry begins every session in the Pow wow
The Eagle Staff lead the Grand Entry
Be Respectful
Always use the correct terminology.
Please stand during the Grand Entry.
Always ask before you touch anything in the Pow wow, including drums and regalia.
Ask before taking photos, videos or audio clips.
When in doubt listen to the M/C they will usually tell you when you need to stand, and when to refrain from taking photos, videos or autoclips.
What to Expect
Grand Entry- Flag bearers, honour guard, Head Dancers and dignitaries dance in the dancers. The dancers follow in according to their categories.
Competitions based on age groups
Juniors 7-12
Teens 13-18
Adults 19+ (styles listed below)
Women's Traditional
This is a stately dance, slow-moving bouncing step, rhythmic dipping with swaying in time to the beat of the drum. Dresses of buckskin, wool or other material are heavily decorated with beading, quillwork, elk teeth, bone, antler or shells.
Men's Traditional
The tempo is slower with the dancer telling a warrior story in sync with the drum. Eagle feather bustles; grouse feathers, deer, elk and porcupine headdresses are all part of this wonderful dance.
Women's Jingle
When a man's granddaughter became very ill, he had a dream that showed him how to make the dress and was instructed to have her dance in it. When the dress was made, she wore it and danced, very weakly at first, but becoming stronger as she went on until she was healed. Her name was Maggie White.
Men's Grass
Once a young man, lame in one foot, longed ever so much to dance. He took that longing out onto the prairie, praying for guidance as he limped up a small hill. On top of that hill, it came to him - he should develop his own style of dance. As he pondered this revelation, he looked down over the prairie with its swaying and swooping grasses. This, he realized, could be his dance. And thus, so it is said, is the origin of the grass dance one might see at a powwow. The motion of the dance flows like the rippling prairie grass.
Women's Fancy is a faster, more expressive and energetic style. The dance is light, graceful, and very athletic. The dancer moves much like a butterfly, maybe a hummingbird and her outfit is bright and colourful. Particular emphasis is given to the shawl, which is worn over the shoulders and spread out along the arms like wings.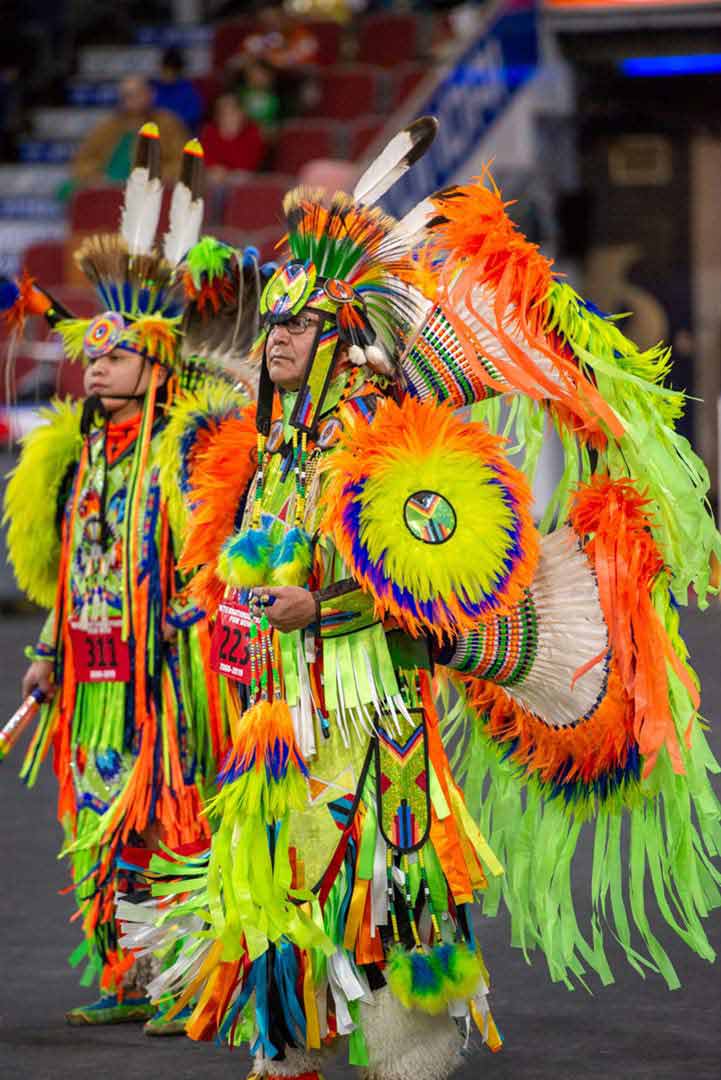 Men's Fancy
Men's Fancy is a most intricate dance with jumps and twirls at the fastest tempo. The regalia is said to represent the rainbow spirits in its bright colours and flying feathers and ribbons. The Men's Fancy dancer typically wears two bustles of bright coloured feathers.
Men's Prairie Chicken
Men's Prairie Chicken is the Blackfoot "be suts be wah sin" that has made its way into the Pow-wow circle. Each man wears a porcupine hair roach on his head and a prairie chicken feather bustle. The dancers step quickly, crouch and rise imitating the dance of the prairie chicken.